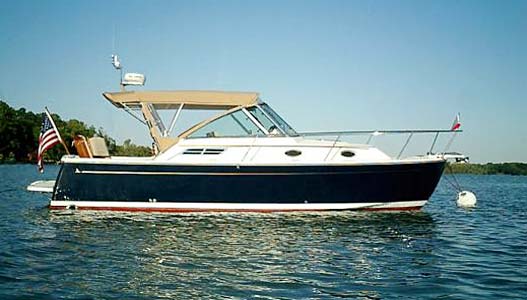 Download the Back Cove 29 Brochure
The style of the Down East lobster boat has been closely associated with Maine's proud boat building heritage. The Back Cove 29 is a most recent example of everything that makes the Down East lobster boat a work of art. She has a traditional spoon bow and her transom is gently sloped: a style that will turn heads in any harbor she enters.
Below the surface she is modern and contemporary. A deep-vee hull with prop recess and standard trim tabs offers comfort and performance. With her standard 260 horsepower 6 cylinder diesel, she will cruise at 18 knots and top out at 23, and with the optional 315 horsepower, 6 cylinder diesel engine, she reaches a top end of 27 knots and will cruise very comfortably in the low 20's. Around the docks, you will appreciate the maneuverability provided by her standard bow thruster.
Originally available with an optional Hard Top or standard as an open express with aluminum wind shield, the Back Cove 29 is practical and beautiful. She is a delight to drive and a joy to behold.