The Back Cove Story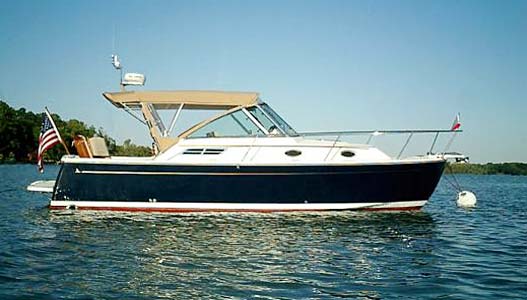 Practical Elegance. From Maine. Back Cove Yachts, founded in 2003, is a sister company of Sabre Yachts.  A group of  Sabre dealers requested a smaller Downeast style cruising boat to suit the needs of owners who admired the look and feel of the Maine lobster boat and the dependability and fuel efficiency of a single diesel engine. The Back Cove 29 was launched soon after, and so was a new brand. Today, the two yards are the largest recreational boatbuilding company in the State of Maine, where America's first ships were built on the shores of the Kennebec River as early as 1607.
Utilizing production line method and vacuum infusion technology Back Cove Yachts leads the industry in 34′ to 41′ cruisers. Currently, more than 750 Back Coves can be found in harbors from Greece to Norway and from Japan to Australia and New Zealand. In the USA boats have found their way to almost every body of water from the coasts to inland lakes.
Back Cove Yachts are built by 200 of Maine's finest boat builders in a modern 240,000 square foot facility in Rockland, Maine. Back Cove associates continuously demonstrate a comprehensive understanding of their role and its influence on the final product. Team dynamics, an emphasis on safe procedures and cross training, and a thorough awareness of each model's competitive position in the marketplace have enabled are essential ingredients that allow Back Cove yachts to exceed today's high standards of excellence in manufacturing and design.
Open All
Leadership
Back Cove's Management Team
Daniel Zilkha was founding partner in Soditic S.A., a Geneva-based investment bank. He moved to New York in 1973 and was the founder and publisher of Art & Auction Magazine. Daniel came to Portland, Maine, from New York in 1983 and since then has been involved with several Maine companies. He is currently a partner in Ram Euro Centers as well as being fully involved in the day-to-day operations of Sabre Yachts, Back Cove Yachts, and North End Composites. Daniel holds a Bachelor of Science in engineering from Princeton University and an MBA from the Harvard Graduate School of Business Administration.
Ed Miller was a Vice President at Rothschild Inc. in New York, from 1972 to 1980. Then founded Island Couriers and in less than eight years developed this express delivery service in 22 countries throughout Latin America and the Caribbean. He sold the company to Federal Express in 1987 and went on to serve as President of the newly created Federal Express (Caribbean and South America) Ltd. He is currently the Chairman of Westwind Management. Ed holds a Bachelor of Engineering degree from Texas A&M University and an MBA from the Harvard Graduate School of Business Administration.
JASON CONSTANTINE – President & Chief Operating Officer (COO)
In his role as President and Chief Operating Officer with Back Cove Yachts, Jason is responsible for all manufacturing operations. Jason began his career in the industry in 2003 with Sabre Yachts as a member of the assembly team, building the Sabreline 47. In 2007, he made the move to Rockland to manage Back Cove production. Previously, Jason worked in pharmaceutical manufacturing in Virginia, charter sport fishing in North Carolina, and environmental education in South Carolina. Jason is a graduate of Stonehill College, holding an Honors B.S. in Biology. 
NANCY BASSELET – Chief Financial Officer (CFO)
Nancy Basselet has been with Sabre Yachts since 1977, making her the company's longest tenured officer. Nancy initially joined the Sabre purchasing team and continued on to develop experience and expertise in all of the departments she now oversees. As Sabre's Chief Financial Officer, Nancy supervises the company's financial, purchasing, and personnel operations. Nancy holds a Bachelor's Degree in Education from the University of Maine.
KEVIN BURNS – Vice President Design and Product Development
Kevin Burns is a former US Merchant Marine Officer and was born and raised in Ohio where he was educated at Miami University before moving east to begin his career in yacht design. Kevin studied engineering while serving in the United States Coast Guard, and went on to graduate from the Design Program at the Landing School of Yacht Design. He served as a Naval Architect with Setzer Design Group in North Carolina before joining  Sabre Yachts & Back Cove Yachts in 2006.
JAMIE BLOOMQUIST – National Sales Manager
As the National Sales Manager, Jamie is responsible for organizing build specifications, coordinating production schedules, managing sales leads and owner relations, and representing the company at shows and events across the United States. Jamie has fifteen years of experience as a photographer, specializing in adventure sports, outdoor, and marine photography. He is the co-founder of US Harbors, a website delivering coastal data to over 4 million users, as well as Affinity Guides, which offers customer development software for event marketers in the outdoor industry.
Design Team
Back Cove's Design Team
The Sabre & Back Cove Yachts design team translates the companies' vision into reality.
Comprised of management, design, and engineering staff, the Back Cove Yachts Design Team is responsible for the conceptual level of the design process. The Department of Design & Product Development then translates those parameters into functional designs, and the respective companies Departments of Engineering then facilitate the production process. Back Cove's design team meets regularly to discuss present models and to propose, discuss, and plan future designs. The design team includes:
KEVIN BURNS – Vice President of Design & Product Development
DANIEL ZILKHA – Chairman
ED MILLER – Vice-Chairman
JASON CONSTANTINE – President & Chief Operating Officer (COO)
JAMIE BLOOMQUIST – National Sales Manager
ADAM CARLSON – Engineering Manager