The first Back Cove 34 will ship in July so the work that needs to be done to create her new IGU (Internal Glass Unit) has begun in our tooling shop. In tooling work you either start from square one or you make a glass master of another part and modify that to give you what you want for the new design. The 34 is, as we have explained before, an updated Back Cove 33 and most of the changes are inside the cabin where the Vee-berth changes over to a pedestal berth. Were this an entirely new hull mold we would be doing all of these new tools from scratch but in this case the work can be accomplished much more quickly. Still there are plenty of details to be built into the plug and that is what you see here.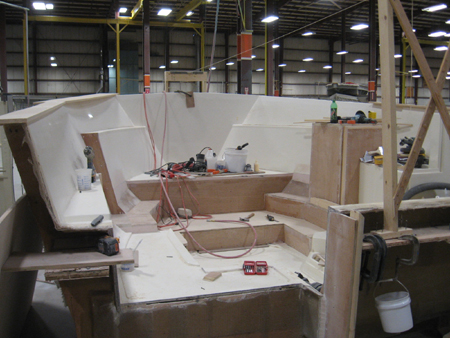 This new interior pan is being built from a splash part (white gelcoat) and the modifications can be seen in wood. The change has already been made to the vee-berth and the hanging locker which was built of timber in the 33 has now become part of the mold and will be built in FRP and then be faced with a cherry wood door. New steps are now built in to provide easier egress into and out of the berth.
Look for more updates over the weeks to come as hull #1 goes into production and flows through the assembly process.