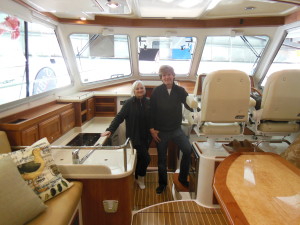 Although some of the items we mentioned here can be found on many boats, the Back Cove 37 is both pretty and stylish which appeals to us, the workmanship is very high quality and the interior is configured as if Back Cove could read our minds!
We owned a 29′ power boat with no generator. After eight years of boating, we started thinking what we would want on our next boat, so we came up with our 'next boat' wish list. We loved the looks of the 'down east' style boats and decided our next boat would be that. We received an email from our local dealer of a 2010 37′ Back Cove that was going to be on the market. We knew the previous owner who was meticulous when it came to boat maintenance so as expected the boat was in excellent condition. The Back Cove 37 had everything on our wish list and then some!
We just love the classy style of the Back Cove and how she sits in the water. For us it was a must to have a full walk around deck. The width of the Back Cove walk around is extra wide providing great footing. A hard top and no clear vinyl enclosure were big items to us. The glass doors give us a better sense of security and eliminates the clear vinyl enclosure  hassles. Upsizing from a 29′ to 37′ added enough living and storage space making long trips so much more pleasurable. How nice to have a door for the master berth! The location of the galley was another big item. Lorry cooks a lot on the boat and wants to be part of what is happening. She loves the visibility having windows all around while making meals. And I love eating a meal on a table that is not sloped! Having a nice glass shower stall next to the head is a wonderful thing! Our throttles on our 29′ boat were hard for Lorry, she had to use both hands, where the Back Cove throttle is smooth as butter. Having both a bow and stern thruster certainly makes docking easy. Its nice of course to have the new technology for electronics.  Although we were very new to diesel engine, its nice to have room to move about in the engine compartment, and the cabin is so quiet while underway, Lorry and I can actually have a pleasant conversation without having to shout over the sound of the engine and wind. We're finding our single engine to be very reliable, and fuel efficient. Our Back Cove has a davit system for the dingy which has proven to be extremely handy and easy to use. We love having satellite TV, especially in the bedroom for Lorry.
Having a generator gives us the freedom to anchor out as opposed to requiring a slip with shore power. We are new to anchoring and plan to spend the 2014 season learning about anchorages along Long Island Sound such as Port Jeff, & Sag Harbor to start.
Lorry & March Young
Family Ties II
Cromwell, CT